The Community of
St. John the Evangelist
Catholic Church
Updated August 9, 2020
ST. JOHN THE EVANGELIST CATHOLIC CHURCH IS NOW PARTIALLY REOPENED. 
Adoration will take place in the Church on Thursdays from 3 p.m until 7 p.m.  No registration is required.
Dear Parishioners, St. John the Evangelist Catholic Church is resuming Sunday and Daily Mass with limited seating.  Please see below for further information:
The Church is open for Sunday and Daily Mass by REGISTRATION ONLY.  Many people are not registering for Mass, and it is a requirement.  Beginning August 1st, those that have not registered for Sunday Mass in advance will NOT be guaranteed admittance. (Please be kind and follow the instructions given by the Greeters to help us all stay safe as we reopen our church and celebrate Mass.  We know people are frustrated, but please respect our Greeters.  They are merely trying to follow the rules set in place by the Archdiocese to keep our congregation safe.)
Our Sunday Mass Schedule is the same: 4:30 pm on Saturday, 7:30 am, 9 am, 11 am and 6 pm in English, and 1 pm. in Polish on Sunday.
Please note that a general dispensation to attend Sunday Mass is still in effect until further notice. People who would be vulnerable to COVID-19 are encouraged not to attend Mass at this time.  Also, do not attend Mass if you have COVID-19 symptoms or have recently come into contact with someone who has been diagnosed with COVID-19.
To register for Mass, first select the number of tickets you would like for the weekend of August 15/16 OR August 22/23.  To allow more people to attend Mass,you may choose only ONE Sunday celebration until Friday, August 21st, at 5 p.m.  If spots are available for the second weekend, the restriction on Mass registration will be lifted and seats will be open even if you attended a prior Mass.  Be considerate of your fellow parishioners and please do not use multiple emails to circumvent the system unless you have more than 4 people attending. We will open up spots for the second weekend after everyone has had the chance to sign up.
Please chose the number of  seats you need first, such as a single ticket, tickets for 2 people, tickets for 3 people or tickets for 4 people. DO NOT SIGN UP MULTIPLE PEOPLE IN THE SINGLE TICKET SLOTS.  Families of more than 4 people may have select a combination of tickets or may contact mbenoit@mystjohns.org or call the office at 630-837-6500 for assistance. Currently Mass tickets are limited to 185 online spots per Vigil or Sunday Mass. We are sorry we have to limit Mass attendance at this time but it is important to keep our community safe.  At this time Holy Communion will only be administered on the hand. Masks must be worn during Mass by all those over two years of age.  You will be asked to sanitize your hands before entering Mass by our greeters.  We use a CDC approved natural sanitizer that dissipates quickly and leaves little to no odor.  You may bring and use your own personal sanitizer prior to entering the Church if you wish.  Thank you so much for helping us to re-open for Mass safely.  If we keep this up, it will help us to open up to accommodate more people.  We all want our church to be filled once more.
God Bless and Stay Safe,
The St. John the Evangelist Re-Opening Team
Please click on the Orange Sign Up! button below to sign up for Sunday Mass.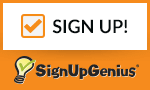 Please click on the Green Sign Up! button below to sign up for Daily Mass including 7 p.m. Mass on Wednesday for daily masses beginning  August 1st.

Additional Sacraments Now Reinstated:
St. John the Evangelist may now conduct Baptisms, Funerals and Weddings for a limited number of people.  Arrangements must be made by contacting the Parish Office.  PLEASE NOTE THAT NO ONE WILL BE ADMITTED TO CHURCH WITHOUT A MASK.
Reconciliation  will be offered as follows (no advanced registration is required):
Wednesdays from 7:30 am until 8:45 am and from 6 pm until 7 pm.
Saturdays from 11 am until 12:30 pm. (Please follow the directions of the Greeters stationed to help you safely receive the sacrament.)
Our Ministries At
St. John the Evangelist
Join us at our latest  spiritual, fellowship and fundraising events.
Your presence and support are appreciated.

Please click on an icon below for more information on a specific event.
The Catholic Church and The Sacraments
Building Holy & Healthy lives
Each time we celebrate the sacraments we are doing what God has called us to do and we share in God's life and love. Our life with the Holy Trinity is strengthened and the sacraments put us in contact with the saving work of Jesus Christ.

Easy and quick references for up-to-date parish and Archdiocese information.
.

CATHOLIC ISSUES/ TEACHING
According to the Holy See (Vatican), communion hosts that are completely gluten free are invalid. hosts must contain some type of wheat.  Fortunately, there are several options for those who are intolerant to wheat or gluten.  Please read more below on how you can request a low gluten host.
A MESSAGE FROM CARDINAL CUPICH ON THE REOPENING OF OUR CHURCHES
Each year, the Finance Council provides a summary of the Parish's
financial situation to the parishioners.
This is a copy of the financial report of our fiscal year (FY) ending June 30, 2019.
View photos of our various events and other happenings
around over the years.